TCPA compliance checklist for collecting mobile phone numbers from your website.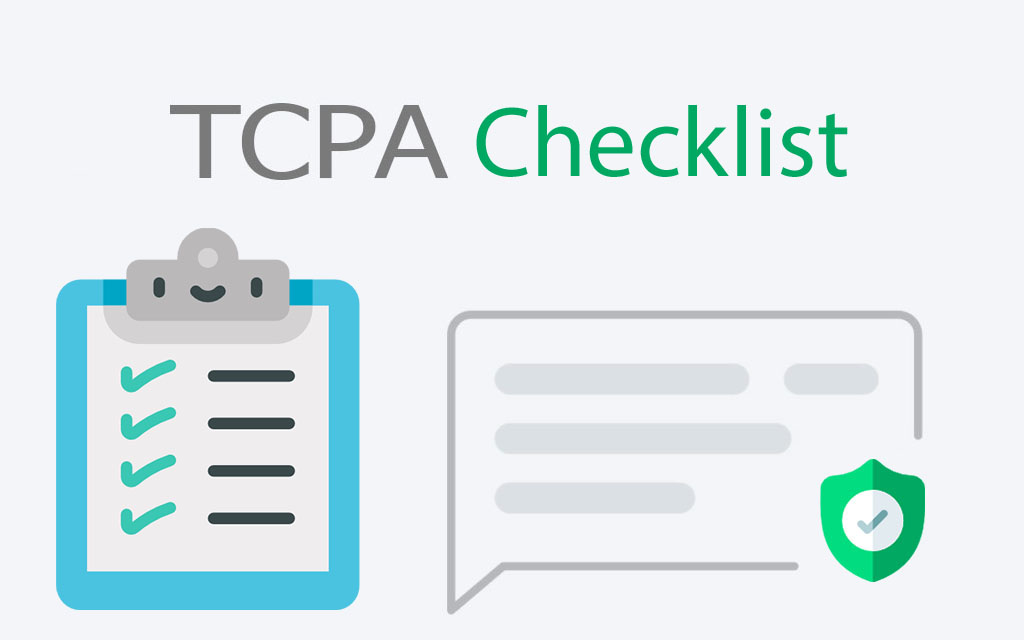 These days SMS text marketers are facing a tough time coping with professional TCPA litigators who will sue companies to play the system for quick bucks.
🔥 There were over 5,000 TCPA related lawsuits in the United States in 2017.
It is imperative that anyone or any company that is engaged in sending commercial SMS text messages should adhere to TCPA rules. A violation of TCPA rules can cost a marketer up to $1,500 per incident or message depending on whether the wrongful messaging was sent intentionally or non-intentionally.
We want to provide a step-by-step guide detailing on how to become TCPA compliant if you are collecting mobile phone numbers from your website.
This is not to be misconstrued as legal advice and each marketer should seek legal counsel for proper language that fits marketer's compliance requirements.
Here is a sample language that should be placed on your web registration form page where phone numbers are collected below a "submit" button
📌 "Express Consent – TCPA guidelines" SAMPLE
By clicking "{submit}," I am agreeing to receive text messages from {offer name}, {other offer}, and business partners. I provide my signature expressly consenting to recurring contact from {Your company name or offer name} or its business partners at the number I provided regarding products or services via live, automated or prerecorded telephone call, text message, or email. I understand that my telephone company may impose charges on me for these contacts, and I am not required to enter into this agreement as a condition of purchasing property, goods, or services. I understand that I can revoke this consent at any time. Terms & conditions/privacy policy apply {www.brand.com/sms-terms}.
📌 TCPA "Express Consent" Checklist
"express consent"
A consumer must give the marketer express consent through clear language that the marketer is to send them SMS text message(s).
"identify the marketer"
A consumer needs to know where the text message came from. The marketer or an offer must be clearly identified with either a company name or the website address that a consumer can associate with.
"marketing partners"
If you have subsidiary or marketing partners that are sending text messages, they need to be identified.
"automated call"
If you are using ATDS, automated telephone dialing system, you must let the user know that the text messages are sent using automated dialers or a machine.
"recurring"
messages If you are sending more than one message, you can state the number of messages a user will receive in a given period of time or say "recurring messages"
"not a condition to purchase"
Be sure to let a consumer know that he/she does not have to make a purchase to be able to sign up on your offer.
"you may get charged for the msg"
A consumer needs to be informed that he/she may incur charges for receiving text messages.
"Terms & Conditions and Privacy Policy"
In order to protect you further, you should have a T&C and a privacy policy in a hyperlink that explains specific terms and how and where a customer's personal information will be used.
"call-to-action"
button If you have a call-to-action button that says "click here," for example, your TCPA express consent language must contain the same verbiage that indicates that a user is aware of receiving text messages when the call-to-action button is clicked.
"check boxes"
If you have a check box above or next to the call-to-action button, you can only use mobile phone numbers that a user has checked the box. However, the check box is not required by TCPA.
"font size and color"
Font size should be large enough so that an average user may be able to read without a magnifying glass. The color of the letters should be clearly visible and should not be the same as the background color.
Location of "Express Consent" language
It should be located below the form where the phone number is collected and above the call-to-action button.
---
Noc Solutions has over 10 years of SMS/mobile marketing experience and created SMS campaigns that delivered over 5000% ROI. Noc Solutions can help marketers to collect phone numbers, design SMS campaigns, and help with compliance requirements.