E-commerce shopping cart abandonment: SMS Marketing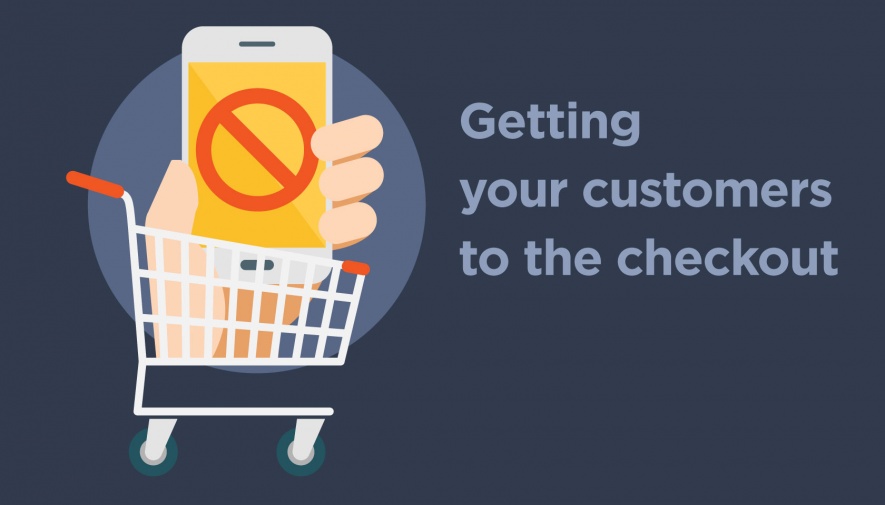 e-Commerce Shopping Cart Abandonment
Cart abandonment is one of the most-watched metrics in the retail e-commerce industry because the number of abandoned shopping carts exceeds completed purchases for some online sellers. Cart abandonment rates average around 70%, but the number varies widely based on the industry, product category, and customer base.
Only twenty of one hundred websites sent follow-up emails in response to abandoned shopping carts according to DirectMag.com's fourth-quarter mystery shopping study of March 17, 2010. Though the percentage is low, it represents a 14% increase in customer notification when compared with e-commerce sites visited during the previous fourth quarter.
Since the value of each abandoned cart was more than $99, customer notification is vital to recapturing lost traffic by using SMS alerts or emails. Merchants' total sales increased by 1.5% to 3% when they reminded customers about abandoned carts (Forester). Though a 3% sales increase seems modest on the surface, a global improvement in sales resulting from one single, new initiative is anything but.
Following is an in-depth study of mobile and on-line marketing practice along with some comparison of the two mediums. Note that the SMS used to engage customers must follow regulatory and best practice guidelines of FCC and the Mobile Marketing Association.
FACTORS THAT DRIVE CART ABANDONMENT
Forester's survey of online shoppers revealed two financial reasons for shopping cart abandonment: 57% blamed shipping and 48% blamed total cost. Inventory availability and unexpected shipping and tax charges were other reasons for cart abandonment. Many Web sites do not indicate whether a product is actually available for purchase until the cart page; others wait until the checkout process. In either case, customers who can't purchase the product they've selected probably won't convert.
In the same way, few Web sites include tax and shipping charges on search or product pages, and customers can be unpleasantly surprised to see how these charges add to their total purchase price. Some retailers have taken steps to address these factors by incorporating inventory availability and charges for taxes and shipping earlier in the shopping path.
Other, less obvious, factors may also contribute to cart abandonment. Consider, for example, the following two scenarios:
Because many retailers automatically store cart contents between site visits, customers use the cart as a wish list for future research or reference with no intention of purchasing during the current session.
Because of the growing influence of cross-channel shopping patterns, many customers may add a product to a cart on the Web, but then head to a local store to view the product live prior to purchase. The latest research indicates that although about 70% of customers research products online prior to purchase, less than 10% of all retail purchases are transacted through the Web. This practice could account for the majority of abandoned carts in some product categories.
SMS AND MOBILE APPLICATIONS
SMS (Short Message Service), commonly referred to as text messaging, is a means of transmitting written messages of up to 160 characters to and from mobile phones. Half of the more than 285 million mobile phone subscribers in the U.S. now use text messaging, and the number of mobile users is expected to grow to 318 million by 2012. Mobile usage is developing fast and mobile advertising is following suit:
Traffic for text messages are growing at exponential pace; an estimated one trillion text messages are sent and received in the U.S. during 2010
Physical goods totaling $2.2 billion were purchased via mobile devices in 201
Mobile phone advertising grew at a rate 18.1% during 2010.
Mobile retail is expected to reach $12 billion by 2014.
As a business application, SMS is a simple, inexpensive, and highly effective marketing and communication tool. SMS technology, as a communication medium, is unique because sent messages can elicit an instant response. As a result, businesses have learned to take advantage of the real time communication capability of SMS.
Restaurants and retailers use SMS to send mobile coupons; airlines alert passengers about flight delays via SMS; and auto dealerships send text messages to remind customers to service their vehicles. In fact, a growing number of e-commerce websites are taking advantage of this new SMS technology. Incorporating SMS text messaging for re-marketing and reminder alerts establishes an instant communications channel with customers or subscribers. Since text messages from businesses only incur standard charges from a mobile carrier, owners receive text messages in real time without additional fees.
SMS CASE STUDIES
1. SMS REMINDER ALERTS FOR A SHORT TERM LENDER
A short-term lender conducted a ten-month case study using SMS reminders to re-activate loans. SMS texts reminded borrowers, who had opted-in to receive SMS alerts, to visit the company website where they could fill out an on-line loan application for a second loan. In forty one weeks of testing, the SMS campaign produced the following results:
132,726 texts sent
18,255 visits to the application website
2,065 loans funded
During the testing period, the lender generated $110,628 of net revenue while incurring a mere $13,272 cost to send the text messages. Overall, the lender realized an 833% return on its investment—a staggering result when compared to traditional methods.
2. SMS REMINDER ALERTS FOR CART ABANDONMENT
A health and beauty e-commerce site installed MobiRescue in May 2010 and started SMS alerts to remind shoppers who abandoned their carts to come back and receive 10% off. During the
latest six- month campaign, the alerts yielded the following results: 178,560 texts produced and 485 sales. The reminder alerts generated $38,800 worth of revenue. The delivery cost of 9,700 produced a 2,072% return on this e-commerce site's investment. This impressive result yielded a happy client.
CART ABANDONMENT SOLUTIONS
TAKE ADVANTAGE OF SMS
While some companies successfully remind customers about abandoned carts via email, SMS reminders are new, and MobiRescue has been testing various websites and e-commerce sites. SMS reminders offer distinct advantages. Mobile and SMS text messages are spontaneous. SMS texts yield higher read rates and create an urgency to respond to relevant content. Although the use of SMS rescue alerts is innovative, case studies indicate that SMS works.
SMS has great potential as an effective, consumer-friendly and straight forward technology. SMS will outperform e-mail messaging for the following reasons:
SMS texts are generally read within an hou
Telephones don't have spam
The consumer can complete an e-commerce transaction entirely from the mobile handset by clicking on the text link embedded into text message to open a mobile web brows
Ninety-seven percent of text message received are re
Mobile devices are more personal than a PC or lap-to
Redemption of mobile coupons is ten times that of traditional coupon
One-third ofS. teens text at least 100 times per day.
The mobile device will be the world's primary connection tool to the Internet by 2020.
ADD VALUE TO FOLLOW -UP MESSAGING
A conspicuous phone number is important since the reason for cart abandonment may have been discomfort with the online experience or even technical glitches on an e-commerce site. Messages that were personalized to include the actual products that were abandoned had higher transaction rates (2.9%) than those that merely included a link taking recipients to their abandoned carts (1.4%) or those that required the recipients to log in before they could see their carts (1.3%). If shoppers don't respond to the initial triggered messaging, try sending a follow-up. According to Experian CheetahMail, such follow-ups can increase a campaign's revenue by up to 33%.
CONVERT ABANDONED CARTS INTO SALES
1. Make sure your e-commerce website has the functionality to save abandoned c
Devise a messaging delivery system that supports triggered abandoned-cart phone numbers.
3. Include real-time inventory messaging on the product pages and in the shopping
3.1. To salvage carts that are abandoned because of back-ordered products, consider
implementing triggered SMS or emails that alert shoppers when items are back in stock.
3.2. If a product is out of stock, suggest alternative products on the product pages, in
the shopping cart, and/or in the follow-up SMS text messages or emails.
4. Test promotional offers in the follow-up messages to see if they help convert sales profitably.
COMPLIANCE
When sending SMS text messages, marketers must adhere to FCC requirements. As a best practice, recommendations established by the Mobile Marketing Association (MMA) should also be followed. FCC rules prohibit the following:
Unsolicited phone calls made to consumer mobile phone numbers and business mobile numb
Calls made for any purpose–whether or not a solicitation is involved –including sales, transactional, polling, and survey
Unsolicited phone calls made by for-profit and nonprofit organizations.
The FCC considers an SMS text message to be similar to a cellular phone call since the recipient pays for incoming messages. Therefore, the FCC prohibits sending unsolicited text messages to any mobile phone number, even if the marketer has a pre-existing relationship with the called party. The type of express consent (i.e. written, verbal, or on-line registration), marketers must obtain prior to calling a wireless device is not specific, but marketers must be able to prove the consumer or business specifically consented to receive calls or texts at a certain phone number.
MMA
The guidelines established by the MMA and individual carriers are much different. The MMA's Consumer Best Practices Guidelines for MMS/SMS recommend marketers follow a double opt-in process to obtain mobile phone numbers. The correct procedure follows:
The marketer displays approved short code in an advertisement or other out
Interested consumers respond (initial opt in).
The marketer replies with requested information and asks for permission to send future messag
Mobile users grant such permission in response (second opt in).
MOBILE CARRIERS
Mobile carriers have different variations of SMS guidelines. T-Mobile requires marketers to obtain double opt-in phone numbers; however, other carriers are not as strict. Each carrier has its own set of guidelines, although all are similar in nature. FCC regulations must be followed. Though different carriers have different polices, obtaining mobile numbers through a double opt-in process, as recommended by the MMA, should be considered a best practice.
Summary
Those companies which have incorporated email reminders into their e-commerce sites have proven them effective. SMS reminders are innovative, and MobiRescue has tested various websites and e-commerce sites for the past two years with great success.
Mobile users have a cell phone within their possession all the time, so it's not surprising that SMS reminders have a 97% open rate. Mobile users usually read SMS texts within an hour of receiving them. SMS texts don't have spam filters, and SMS messaging is available to 98% of mobile phones. SMS messages can take full advantage of mobile application by embedding a text link within the message content. This link can be clicked to open a mobile web browser, so consumers can complete e-commerce transactions from their handset.
Even in today's robust e-commerce environment, a relatively small percentage of e-commerce sites, about 20 to 30%, have integrated email reminder solutions. An SMS reminder works well even if an e-commerce site has already incorporated email reminders. The results for the e-commerce health and beauty site discussed earlier in this paper establish the effectiveness of SMS.
When an e-commerce site integrates an SMS reminder service, it can re-engage customers with marketing messages as well as critical alerts. It is important for e-commerce sites to incorporate a tracking mechanism to learn buyer behavior and be able to reach out and touch customers at appropriate stage of buying cycle. SMS notification affords e-commerce merchants that critical opportunity.
MobiRescue was installed after email reminder was already sending incentivized emails. MobiRescue was receiving mobile numbers 24 hours after the email reminder was sent.
Noc Solutions has over 10 years of SMS/mobile marketing experience and created SMS campaigns that delivered over 5000% ROI. Noc Solutions can help marketers to collect phone numbers, design SMS campaigns, and help with compliance requirements.